Roll up for London's royal wedding magical mystery tour
Visitors are flocking to tours that tell the highs and lows of Prince William and Kate Middleton's story – from the clothing store where she worked to royal shoemakers.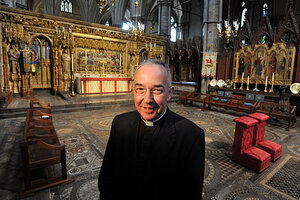 John Stillwell/AP
Forget Britain's Big Ben! Who cares about the National Portrait Gallery? Trafalgar Square? Pshaw.
There, right across the street, behind that parked van, is the Jigsaw clothing store where Kate Middleton held a job from 2006-2007 as an assistant accessories buyer. Part time.
"Wow!" says a couple from Greece. "Interesting!" adds an Australian woman, snapping photos from various angles.
Welcome to the London attraction of the week – the formidable, information-packed, royal wedding tour of London. Available, with slight variations, through half a dozen different companies, but always, inevitably, featuring such highlights as where Prince William went out dancing (and ran up a bar tab of £11,000 – about $18,000) after he broke it off with Kate for a few months.
But let's not dwell on unhappy memories. With the nuptials of William and Kate only four days away, the city is filling up with tourists – and journalists – from across the globe, all eager to see, hear about, and feel some of the magic of the royal love story.
"In the next 2-1/2 hours we'll be discussing the highs and lows of William and Kate's relationship," begins Hana Umezawa, the charming guide from Celebrity Planet tours, as she gets the afternoon started peering into the window of the jewelry store where Princess Diana's blue sapphire and diamond engagement ring – now adorning Kate's slender finger – was purchased.
---