How Princess Diana changed the way paparazzi pursue Kate Middleton
Glenn Gratton, founder of London-based paparazzi agency Matrix pictures, spoke with the Monitor about the industry's sensitivities following the death of Princess Diana amid today's royal wedding.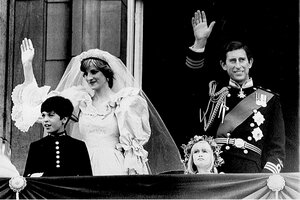 AP/File
Glenn Gratton is bicycling frantically around London today, chasing down Kate Middleton and the crew during the royal wedding ceremonies.
The founder of London-based paparazzi agency Matrix pictures, which had photographers stationed at eight points along the route from Westminster Abbey to Buckingham Palace, has been snapping celebrities – including the royals – for more than two decades.
For newly wed Ms. Middleton, this is just the beginning of a long relationship, but one that will be heavily influenced by Princess Diana's experience with the paparazzi. Tougher laws against intrusive photographers followed her death in a 1997 car accident while being pursued by paparazzi.
"We don't have our guys aggressively follow cars," says Mr. Gratton of the paparazzi's sensitivities to the way Diana died, and her sons William and Harry's ill feelings toward the cameras.
"We are sensitive to that. I mean, not only because of what happened, but because there might be kids there, and we don't want to be held responsible for any harm coming to anyone. And we understand the princess would be wary of us. You would be, too. But they are never rude or horrible," he adds.
Even in the years before saying "I do" today to Prince William and becoming the Duchess of Cambridge, Middleton has battled the paparazzi's attempts to cash in on her popularity, suing and winning damages for photographs that breached privacy.
The Monitor talked with Gratton ahead of today's wedding:
How do you think Kate will turn out? Will she be an icon like Diana?
---