Prince William now wedded to his 'beautiful' Catherine
Prince William emerged from Westminster Abbey with a lace-clad Catherine on his arm to cheers from thousands of fans lining the route to Buckingham Palace.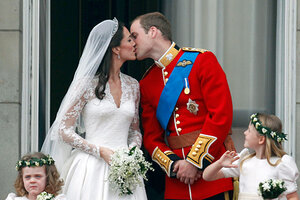 Darren Staples/Reuters
Prince William, son of Charles and the late Princess Diana, married Catherine Middleton, daughter of an entrepreneurial middle-class British family in Westminster Abbey minutes ago, with both bride and groom saying "I will" to the Archbishop of Canterbury in an hour-long ceremony that started at 11 a.m.
As Kate joined William at the altar, the prince could be seen to lean over to her and form the word "beautiful" as the two stood. Ms. Middleton was flanked by her father Michael Middleton and Prince William was joined by best man Prince Harry, William's brother.
Watched on by the Queen, who has provided stability and continuity to the often scandal-prone British monarchy, the two appeared slightly nervous but made no visible gaffes in vowing to "love and cherish" each other, even as they have been together for nearly eight years. The two have become widely talked about as a decent and loving couple, not stuffy or elitist, and are widely popular among ordinary Brits.
The wedding, viewed worldwide, is seen here as a part fairly tale and part a historic leveling moment that may reconcile the excesses of the monarchy and royalty with the hopes and lives of ordinary British. Middleton, who will be the new Duchess of Cambridge, is seen at the outset of the marriage as well typecast for that role.
---