Arab refugee influx causes Europe to rethink its open borders
France wants to overhaul the Schengen agreement, which allows free movement across European borders. A key issue: including large groups of immigrants among the potential 'threats to public order' that allow temporary internal border controls.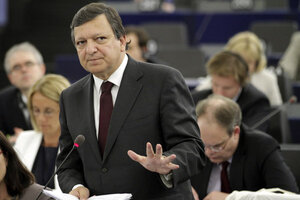 Jean-Marc Loos/Reuters
When Tunisians rebelled against a corrupt government and drove out President Zine Ben Ali earlier this year, they received the applause of Europe's political class.
When thousands of them turned up at Italy's and Malta's ports soon thereafter, they were greeted with much less enthusiasm.
Now their arrival has led to proposals for the overhaul of the so-called Schengen agreement, a system that allows the citizens of 25 European states – and their visitors – to cross borders without any controls.
RELATED: Global doors slam shut on immigrants
EU Justice and Home Affairs ministers meeting in Brussels today discussed how to interpret the wording of the agreement that allows member states to temporarily reinstate internal border controls within the Schengen area where and when "a threat to public order" warrants.
In the past, such measures were taken with the permission of the EU Commission in Brussels to prevent, for instance, violent soccer hooligans from traveling to international matches. But some countries, led by France, argue that member states should be entitled to regard – and treat – a larger group of immigrants trying to cross internal borders as a threat to public order. A majority of the ministers attending followed that argument.
---