How will Ireland greet Queen Elizabeth's historic visit?
On Tuesday, Queen Elizabeth II will become the first British monarch to visit the Republic of Ireland. Ireland's prime minister characterized the trip as evidence of a 'growing up' of two peoples.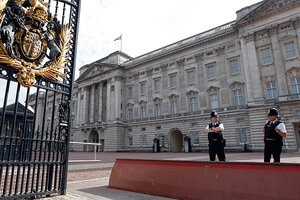 Luke MacGregor/Reuters
On May 17, Queen Elizabeth II will become the first British monarch to visit to the Republic of Ireland, but amid a huge security operation, there is little open enthusiasm – or anger – at the move.
The sight of Union Jacks being waved on Irish streets is an unlikely prospect. Yet organizers of a royal visit to Ireland hope that republican sentiment will be overwhelmed by majesty.
Signs indicate a nuanced response.
Independent of British rule since 1921 – or 1919, depending on how you calculate it – the Republic of Ireland will host the queen just six days before a second state visit by President Obama.
Quick to capitalize, Ireland's tourism authority has labeled May "the month of welcomes."
For three days, Queen Elizabeth will tour Ireland, including notable – in some cases contentious – locations in the capital, Dublin. Those include the Garden of Remembrance, a monument to those killed in Ireland's war of independence from Britain, and sports stadium Croke Park, the site of the 1920 killing of 14 civilians and three republican operatives by the British Army in reprisal for the killing of 14 British agents by the Irish Republican Army (IRA).
Senior political figures have welcomed the visit as a reconciliatory move.
---