Strauss-Kahn arrest upends French politics ahead of presidential race
Dominique Strauss-Kahn, arrested in New York on sexual-assault charges, was considered a strong contender to become France's next president. Now his candidacy for the Socialist party is in serious doubt.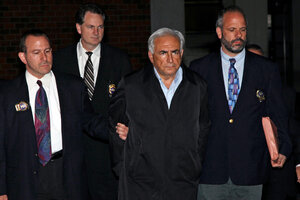 Craig Ruttle/AP
Dominique Strauss-Kahn, director of the International Monetary Fund, is missing a lot of important events these days. He missed a meeting with German Chancellor Angela Merkel on Sunday, and he won't attend the get-together of EU finance ministers in Brussels today. But much more important, in all likelihood, Mr. Strauss-Kahn has missed the chance to become France's next president.
Before the NYPD arrested him on Saturday at JFK airport on sexual assault charges brought by a Manhattan hotel maid, French Socialist Strauss-Kahn was widely expected to soon declare his intention to run for president in the 2012 elections. Now France's political class, most of all the Socialist Party (PS), is trying to gauge the consequences of his arrest.
Strauss-Kahn is to appear in court today in New York, where he is expected to plead not guilty.
"The news from New York sounds like a thunderbolt," said Socialist leader Martine Aubry. "I myself, like everyone, am totally astounded. I ask the Socialists to remain united and responsible."
---