If Strauss-Kahn is out, who might become IMF chief?
Dominique Strauss-Kahn was arrested only two days ago, but the jockeying for his post is under way. Could a non-European win the influential job?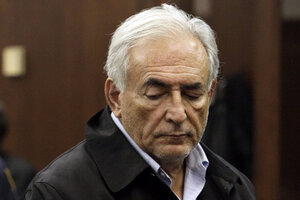 Richard Drew/AP
Dominique Strauss-Kahn may be sitting in a Rikers Island jail cell on charges of sexual assault, but officially, he's still managing director of the International Monetary Fund.
That hasn't stopped governments around the world from looking for a successor.
The list of possible replacements is already long – and also indicates that the jockeying for Mr. Strauss-Kahn's post could be contentious and full of conflict. What's more, non-European candidates may be making a strong run for the position.
There's French Economy minister Christine Lagarde. She's known as a competent and smooth operator, but she is the object of a corruption investigation in France. Then there is Peer Steinbrück, former German Finance minister who has been credited with helping consolidate Germany's budget. He is also famously short-tempered. Kemal Dervis is another name on the list, the former Turkish Finance minister steered his country successfully through a financial crisis in 2001.
Europe (mainly France) has traditionally occupied the seat at the top of the IMF. In return, the US gets the post of World Bank director. But with the global economic balance shifting, up-and-coming economies from outside the EU are demanding a bigger say.
---