In Ireland, Queen Elizabeth writes new chapter with visit to Bloody Sunday site
Queen Elizabeth has visited Croke Park Stadium, scene of the Bloody Sunday massacre, and the Garden of Remembrance. Both sites honor republicans who fought the British for independence.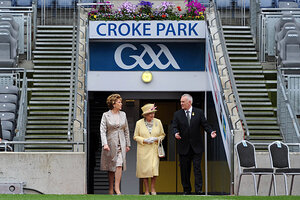 AP
Toomevara, County Tipperary, Ireland
In keeping with the historic nature of the British queen's visit to Ireland – it's the first by a British head of state since Irish independence – Queen Elizabeth II today visited a particularly symbolic shrine of Irish nationhood and culture.
Yesterday Queen Elizabeth laid a wreath at the Garden of Remembrance, Ireland's official memorial to its republican dead. Today, she made her way to Croke Park Stadium.
Aside from being Ireland's "field of dreams" and touchstone for Irish culture, the headquarters of the Gaelic Athletic Association (a sporting organization long associated with Irish republicanism), it was also the site of the first Bloody Sunday. The Nov. 21, 1920, event was pivotal in the Irish war of independence, as it saw British police murder 14 civilians in reprisal for the killing of British agents by the IRA.
As she entered today at just after 3 p.m., accompanied by Irish President Mary McAleese, the queen was greeted by 34 children, each wearing shirts representing one of the 32 counties of Ireland, plus the honorary "counties" of London and New York, where the GAA also organizes games.
---