Why Estonia may be Europe's model country
The world's first cyberstate embraced austerity without whining even though its Soviet-era memories are still fresh.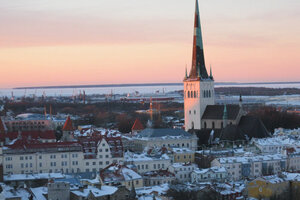 Isabelle de Pommereau
An 82-foot-high billboard wrapping Estonia's finance ministry building in its capital, Tallinn, boasts: "The euro, my money." It stands just blocks from the city's cobbled, winding medieval streets and baroque churches, in a downtown where skyscrapers have replaced Russian bunkers, as a symbol of Estonia's transformation from poor Soviet republic to the European Union's rising star.
When Estonia was accepted into the eurozone in January, seven years after joining the EU and two decades after the fall of the Soviet Union, it was another big step for the small Baltic nation away from its imposing neighbor to the east, Russia.
Over the next five years, it's expected to have Europe's fastest-growing economy. It emerged from the global financial crisis wounded, but has rebounded after adopting austere measures few other countries would accept. It's given the world Skype and the only national volunteer cyberarmy, and is adding to the EU a rare sense of determination at a time when pessimism about the euro prevails – a consequence of the debt crises that have hit Greece, Ireland, and Portugal and the bailout plans that followed. Indeed, Estonia, which is still the eurozone's poorest country, has emerged as the darling of its beleaguered union. [Editor's note: The original version incorrectly stated that Estonia is the poorest European country. It is the poorest eurozone country.]
---
Follow Stories Like This
Get the Monitor stories you care about delivered to your inbox.