With Strauss-Kahn out, could a non-European snag IMF post?
Lobbying has intensified for Dominique Strauss-Kahn's old job. Emerging economies may vie for the IMF's top spot.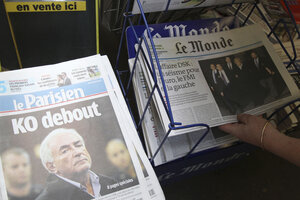 Michel Euler/AP
The debate over who should replace International Monetary Fund chief Dominique Strauss-Kahn is intensifying now that his departure from one of the world's most powerful financial institutions is official.
In a May 18 letter released by the IMF, Mr. Strauss-Kahn, who is held at Rikers Island prison in New York on charges of sexual assault, said he wanted to devote his strength, time, and energy to proving his innocence.
"I deny with the greatest possible firmness all of the allegations that have been made against me," Strauss-Kahn wrote. He was arrested Saturday after a Manhattan hotel maid told police that he had tried to rape her earlier that day.
Strauss-Kahn is leaving the IMF at a crucial moment for European economies – Greece and Portugal are in financial straits – as well as great economic growth by Asian countries. While many potential replacements have emerged, it's also become clear that the tradition of a European leading the IMF will be challenged by emerging economies.
---