Inspired by Arab Spring, Spain's youthful 15-M movement spreads in Europe
Young Spaniards railing against political stagnation and high unemployment are protesting in 166 cities across the country and have sparked other protests in Europe.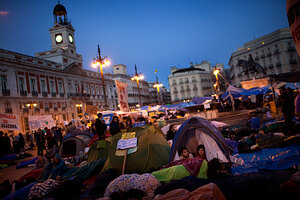 Emilio Morenatti/AP
Tens of thousands of disenchanted and unemployed young Spaniards refused to leave tent cities they raised over the week in plazas throughout the country, defying an official ban on gatherings ahead of this Sunday's municipal elections.
Some are calling the growing youth movement a "Spanish Revolution" – spread via Twitter and Facebook – that's reminiscent of the 1968 French student movement that catalyzed an unprecedented social and moral overhaul in Europe and throughout the world. Some commentators say the Arab Spring has arrived in Spain. Critics, meanwhile, call it an excuse for a big party.
Regardless, the so-called 15-M movement, a reference to the day protesters occupied Plaza del Sol in Madrid, is calling for political and economic reform in Spain and has spread to 166 Spanish cities and to other parts of Europe. Similar plaza takeovers have been organized through online social networks for Friday in at least 10 Italian cities.
"I'm here against the system, against everything, the banks, the government, the Popular Party, unemployment. You name it. Nothing works," says Sabina Ortega, a journalism student. "It's against a two-party system. And my goal is to feel represented. I want politicians to know they are not listening," she says. "I'll stay here as long as I have to."
Unemployed youth
At more than 21 percent, Spain has Europe's highest unemployment rate and is also suffering from its worst economic crisis in decades, compounded by a series of draconian austerity measures.
One of every two people of working age under 25 is jobless in Spain. They are dubbed "the lost generation." Young Spaniards are fleeing to other European capitals to find work. Experts, though, say this movement is not just about work, but about feeling alienated and misrepresented.
---