Iceland volcano eruption II: volcanic ash shouldn't disrupt travel too much this time
The Iceland eruption of the Grímsvötn volcano Saturday was far larger than than last year's Eyjafjallajökull eruption, but scientists say it is unlikely to disrupt Europe as much.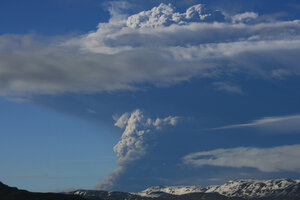 Halldora Kristin Unnarsdottir/AP
Concerns about major air travel disruption are mounting after Iceland's most powerful volcanic eruption in over 50 years threw a huge cloud of ash 12 miles into the air over the weekend, a year after ash from the Eyjafjallajökull volcanic eruption reached Europe, closing much of its airspace.
Flights to and from Iceland were cancelled yesterday and Reykjavik airport is expected to remain closed today, as airlines were warned the ash could reach northern Scotland by tomorrow and even southern Europe by the end of the week, prompting concerns of much wider disruption to travellers.
Initially, European airspace was not expected to be affected but in the last two hours Eurocontrol, Europe's air safety organization, issued a statement confirming that "some ash cloud may reach parts of northern Europe in the next 48 hours."
As a result, it added, the European Aviation Crisis Coordination Cell (EACCC), comprising representatives from European states and aviation safety experts, had been activated "to coordinate a response that can mitigate any potential impact while maintaining established safety levels."
---