Iceland's volcanic ash over Britain could be gone tomorrow – but back Friday
Experts suggest that the volcanic ash from Iceland's Grímsvötn could once again snarl British air traffic later this week.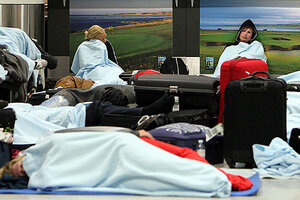 Scott Heppell/AP
British airspace is expected to return to normal tomorrow as the ash cloud caused by Iceland's Grímsvötn volcano drifts away. But experts say conditions over the United Kingdom are likely to deteriorate again by week's end.
The latest report from the Met Office, Britain's weather forecaster, predicts that dense ash will return Friday, covering the whole of the UK. That would almost certainly mean every flight in and out of the UK will be grounded.
Much will depend on weather patterns and the power of the volcano, which has begun to dissipate since it erupted Saturday. Experts suggest that its ferocity is on par with last year's Eyjafjallajökull's eruption, which effectively shut down European airspace for six days, costing airlines nearly $2 billion and caused havoc for millions of passengers.
Today, 500 European flights were canceled, mostly in and out of Scotland and northern England, although there has been some minor disruption in Scandinavia, too.
---