Obama lavishes praise on Britain for its post-9/11 support
In an address at a state banquet last night, President Obama highlighted the strength and substance of the bond the US and the Britain share.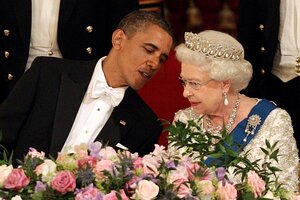 AP
Less than a month after Buckingham Palace celebrated the royal wedding of William and Kate, another rather different union was commemorated at the Queen's London residence last night.
At a sumptuous state banquet held in his honor, US President Obama extolled the virtues of the special relationship between the United States and Britain, an association that might lack some of the glamour of last month's nuptials but continues to endure far longer than most royal marriages do.
In a striking address, Mr. Obama highlighted the strength and substance of the bond the two nations share.
"I'm particularly grateful for the solidarity that the UK has shown to America over the past decade," Obama said at the dinner. "From that day to this you have been our closest partner in the struggle to protect our people from terrorist attacks and violent extremism around the world despite the very heavy sacrifices here. Allow me to pay tribute to your military forces that have stood shoulder to shoulder with us for decades."
Around 170 guests attended the event, including members of the monarchy; top-ranking politicians; and Hollywood movie stars such as Kevin Spacey, Tom Hanks, and Helena Bonham-Carter.
---