Obama highlights Poland as model for a changing Middle East
On the last stop of his Europe tour, Obama recognized Poland's economic and democratic growth, saying it could be a template for pro-democracy movements in North Africa and the Middle East.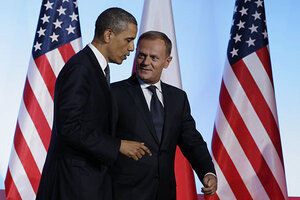 Carolyn Kaster/AP
The visit, says Bartosz Wisniewski of Warsaw's Polish Institute of International Affairs, allowed Obama "to bask in the success story that is Eastern Europe's transformation from Communism to capitalism, in which America played no small role."
President Obama closed his four-nation tour of Europe by cementing US ties with Poland, which emerged from the cold war to become one of Washington's closest European allies.
In a 24-hour stop, Mr. Obama highlighted Poland's economic growth and its support for pro-democracy movements in north Africa and the Middle East.
Obama met Saturday with Polish Prime Minister Donald Tusk, saying afterward that Poland was "one of our strongest and closest allies and a leader in Europe," and "a living example of what is possible when countries take reform seriously."
Security was a key concern on the agenda, especially in the wake of Obama's decision to scrap Bush-era missiled defense plans – including 10 interceptor missiles in Poland. The president told his hosts that the move did not put Poland's security at risk and that NATO would guarantee the country's security.
---