Obama's Europe visit: redefined ties and a touch of 'political Beatlemania'
European leaders warmed to President Obama's emphasis on pragmatism and mutual values. Playing ping-pong and visiting Moneygall, Ireland, didn't hurt his popular image, either.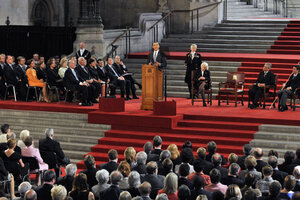 Andy Rain/AP
Europe always provides good photo opportunities, but the images of Barack Obama's recent visit were a publicity consultant's dream: the quaint Irish village of Moneygall, hanging out with the queen, high-fiving Prime Minister David Cameron after a game of ping-pong. The media circus lapped it up.
As did the Irish and Britons. Thou­sands of Dubliners turned out to welcome him, thrilled by his efforts to sound Irish and his recently discovered Moneygall roots. In Britain, politicians fawned over him, hoping that some of his charisma might rub off. At Westminster, as the houses of Parliament awaited Mr. Obama's historic address, member of Parliament Tessa Jowell tweeted that the atmosphere was like "political Beatlemania."
Well before he'd moved on to France for the Group of Eight summit, Obama's European tour had already been hailed a success.
---