Signs of a changed Serbia in weakened pro-Mladic protests
Thousands protested the arrest of alleged Serbian war criminal Ratko Mladic in Belgrade on Sunday. But indifference or relief has largely outweighed anger over the arrest.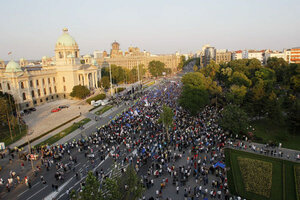 Darko Vojinovic/AP
Belgrade and Lazarevo, Serbia
Serbian police arrested about 180 people in Belgrade last night as a protest against the arrest of alleged war criminal Ratko Mladic turned violent. But in a shift from the past, the eruption of violence has been more associated with young hotheads than any political motive.
Hooded young men smashed paving and low walls around the Serbian Parliament and hurled the chunks of rock at riot police and heavily armored gendarmes, who were out in force. Some 32 police and 11 civilians were injured, according to the Interior Ministry, but authorities quickly brought the rioting under control.
The unrest came at the end of a rally organized by the ultranationalist Serbian Radical Party (SRS), the country's largest opposition party, to protest the arrest and expected extradition of General Mladic, the former commander of the Bosnian Serb Army (VRS).
The demonstration was poorly attended by the standards of similar events in the past, including protests against the arrest of Bosnian Serb political leader Radovan Karadzic in 2008. The disturbances afterward were also mild by comparison, partly because the SRS is weaker, after a split when some members founded a new, more moderate party.
Indeed, the mood on the streets of Belgrade since Mladic's arrest has generally been one of resignation among nationalists and relief among liberals, but most of all, of indifference. Particularly among the young, Serbia's economic problems and its drive for EU accession take precedence over the past.
---