E. coli outbreak: blame game delays common response
E. coli investigations are under way in Germany, where 16 have died, as well as Spain and the EU Commission. Germany has targeted Spanish produce, but Spain says the supply chain could be a culprit.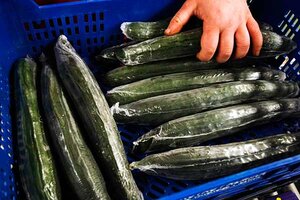 Francisco Bonilla/Reuters
European agriculture ministers were meeting Tuesday in Hungary about the spread of a mysterious deadly strain of E. Coli that has killed 16 people, mostly in northern Germany, and affected more than 1,000 throughout Europe. But a blame game over the origin of the contamination is threatening a common response.
Germany's Hamburg Institute for Hygiene and the Environment last week was the first to report that organic cucumbers grown in southern Spain, one of Europe's biggest breadbaskets, were contaminated.
But Spain has reacted angrily, saying that there is no evidence that Spain is the source, even if the cucumbers originated there, because they could have been contaminated anywhere along the supply and handling chain.
Germany, Spain, and the EU Commission are all conducting separate investigations, but Spanish officials say Germany is taking too long to release results, adding to the uncertainty over the source of the contamination and thus hampering efforts to contain it.
"Spain is not satisfied," said Rosa Aguilar, Spain's Agriculture minister, upon her arrival Tuesday in Hungary for the EU ministerial summit. "Germany must give transparent information quickly so that the EU knows where the problem is." The priority is to find the source of the problem in Germany, "which is where all these circumstances are taking place," she said. While people outside Germany have been affected, most had recently traveled in the country, according to reports.
---