Ratko Mladic's arrival at Hague bolsters promise of international courts
Ratko Mladic's extradition to The Hague Tuesday to face 11 counts of war crimes in Bosnia reflects a growing acceptance of seeking justice in global courts instead of the battlefield.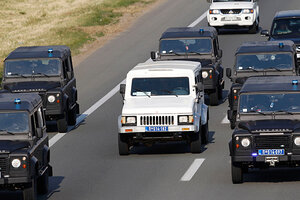 Ivan Milutinovic/Reuters
Bosnian Serb Gen. Ratko Mladic was placed on a Hague-bound airplane Tuesday after losing his appeal not to be sent there on 11 counts of war crimes in Bosnia. His arrival the International Criminal Tribunal for the former Yugoslavia (ICTY), set up in 1993, further legitimizes global efforts to establish laws and courts to prosecute crimes that for most of human history took place with impunity and were usually resolved by wars, treaties, time, and forgetting.
Attempts at such forms of international justice have been fraught, imperfect, often highly political, expensive, and selective, many jurists will agree. But in the past two decades, the world has increasingly viewed referrals to The Hague of those accused of large-scale atrocities as the norm – a sea change in the way the world does business. Libya's Col. Muammar Qaddafi is under investigation by the International Criminal Court (ICC) and Sudan's President Omar Al Bashir has been indicted for war crimes in Darfur.
---