Ratko Mladic's whirlwind week: From war crimes fugitive to Hague inmate
Ratko Mladic is set to be arraigned Friday at the UN tribunal at The Hague on 11 charges of war crimes for commanding Bosnian Serb forces during the Balkan wars.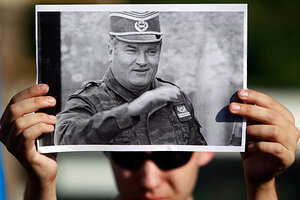 Sergei Karpukhi/Reuters
Ratko Mladic is set to be arraigned Friday before the UN tribunal at The Hague as the highest-ranking Bosnian Serb military figure of the Balkan wars of the 1990s.
Charges against Mr. Mladic include genocide, persecution, extermination, and murder. The indictment submitted today was revised from 15 to 11 charges to "mirror" those of his Bosnian Serb counterpart and political boss, Radovan Karadzic, who was caught in Belgrade two years ago.
Mladic's arrest after 16 years at large, his speedy extradition from Serbia, and his placement in isolation last night at Scheveningen Prison at The Hague ends a whirlwind that started less than a week ago.
RECOMMENDED: Who is Ratko Mladic? Four key questions answered.
---
Follow Stories Like This
Get the Monitor stories you care about delivered to your inbox.