E. coli outbreak prompts political fights, calls for reform
Europe's inability to zero-in on the cause of an E. coli outbreak, which has been blamed for 23 deaths, has politicians pointing fingers and experts calling for more effective crisis management.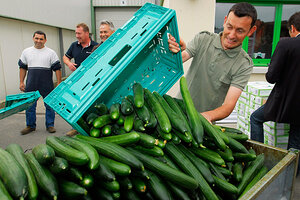 Jacques brinon/AP
While scientists are still trying to establish the source of an E. coli outbreak that killed 23 people and affected more than 2,000, the German government is facing increasing criticism over its handling of the crisis.
The outbreak has resulted in conflicting messages from public health officials, warnings followed by retractions, and outrage from European farmers who say the crisis has lost them millions of dollars. While the source of the E. coli contamination still eludes European Union and German officials, what seems to be clear, say experts, is that a centralized, more streamlined crisis management is needed in the future, both at member states level and within the EU bureaucracy.
Already the crisis is leading to political fallout. German Health Minister Daniel Bahr, a member of the Free Democrats, the junior partner in Germany's coalition government, has been accused of having underestimated the outbreak.
"He should have put more pressure on the investigation to find the source of the outbreak and he should have been much more open to the public," said Karl Lauterbach, health expert with the opposition Social Democrats.
Renate Künast from the opposition Green party, herself a former agricultural minister, criticized the lack of crisis management. "There is no national action plan, neither for the health sector nor for the agricultural sector," Ms. Künast told reporters.
Responsibilities in the fight against EHEC, a deadly strain of E. coli that has been discovered on vegetables in some European countries, are shared between 16 German states and their health and agricultural ministries. At federal level, both ministries are supported by the Robert Koch Institute, which is responsible for disease control and prevention, and the Federal Institute for Risk Assessment.
---
Follow Stories Like This
Get the Monitor stories you care about delivered to your inbox.