Forbidden in France: the words 'Twitter' and 'Facebook'
A new French law forbids domestic TV and radio broadcasters from using the names of the two American social media giants in an attempt to prevent 'clandestine advertising.' But media experts and commentators call the ban 'chauvinist,' 'out of touch,' and 'stupid.'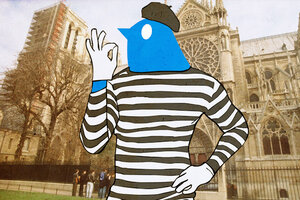 PHOTO: Melanie Stetson Freeman/Staff, ILLUSTRATION: Jacob Turcotte/Staff
"There are rules you must respect," say French officials about a new restrictive ban on the words "Facebook" and "Twitter" in French media.
The ban announced by France's audiovisual authority aims to stop "clandestine advertising" of the two American social media giants, and is the latest in a long history of attempts to regulate images and words ranging from "e-mail" to Coke in La Republique.
Yet initial reaction from French bloggers and reporters shows scant love or respect for official efforts to excise Facebook and Twitter – words that for better or worse have become common currency here.
"Tweeter" (meaning "to tweet"), for example, is now a verb entered into Robert's French dictionary as a new word last year. Various meetings and social gatherings in France are carried off as "Facebook events."
"This decision is not only stupid and hypocritical, it is also scary because behind the legal alibi, it reeks of anti-Americanism, chauvinism, and a complete misunderstanding of today's world," says Karim Emile Bitar, a frequent commentator on French affairs at a Paris think tank.
'Out of touch'
Under laws announced May 27 and that went largely unnoticed until this week, French TV and radio employees must use a generic phrase like "social network" or "reseaux sociaux," rather than Facebook or Twitter. Exceptions involve citing sources of information, as one might use the newspapers Le Monde or Le Figaro to cite the origin of a news story.
A chorus of French media mavens argue the law is a parochial effort that forcibly constricts speech to preserve a French sense of control over commerce and cultural sensibility.
---
Follow Stories Like This
Get the Monitor stories you care about delivered to your inbox.