In Albania, a mayoral vote gone awry threatens EU membership bid
Opposition leaders have called for European mediation to resolve a disputed mayoral election in the capital Tirana that is deepening political divisions throughout Albania.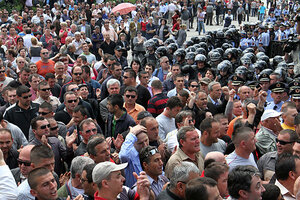 Hektor Pustina/AP
As Albania's two-year political crisis risks spiraling out of control, the opposition is now calling for international intervention.
Edi Rama, the maverick head of the Socialist Party (PS), called for urgent help to prevent the crisis from "turning into a time bomb for our country's future."
Albania's political scene has been starkly divided since accusations of election fraud followed 2009 parliamentary polls. Since then, tensions have flared over the shooting of four antigovernment protesters by security forces in January and the ongoing dispute over a mayoral vote in Tirana, the capital.
Now, political tension appears close to the boiling point.
Mr. Rama, who was the incumbent in the Tirana election and deemed the loser by the country's election commission, says he was robbed in the close race and has refused to concede.
This week in an open letter to the Albanian people, Rama launched a stinging attack on Prime Minister Sali Berisha, whose Democratic Party (PD) was deemed the winner of the mayor vote, accusing him of "robbing" and "killing innocent people."
He also rebuked the country's Central Electoral Commission (CEC) of turning "the loser into a winner" and breaking the law after it overturned exceptionally tight mayoral election in Tirana. It declared Lulzim Basha, a rising star of the PD, the winner by only marginally more votes after an allocation of miscast ballots.
---