Berlusconi's referendum defeat: beginning of the end?
Italian Prime Minister Silvio Berlusconi admitted defeat amid a large voter turnout and rejection of a ballot question to give government ministers immunity from appearing in court. Berlusconi is facing three fraud trials and a sex scandal.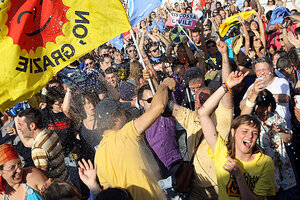 Roberto Monaldo/Lapresse/AP
Silvio Berlusconi, Italy's flamboyant prime minister, is usually reluctant to admit defeat. But once it became clear that the majority of Italian citizens defied his exhortations not to vote and weighed in on four national referendums, he waxed philosophical: "In respect to the people's will, we shall say goodbye to nuclear energy," he told news agencies. "This means we'll have to put more effort on renewable [energy sources]."
But many observers see the beginning of the end for Mr. Berlusconi in both the large turnout and voters' rejection of trial immunity for government ministers – a measure introduced last year that granted Berlusconi de-facto immunity from prosecution. The embattled leader is currently facing three corruption trials and one for allegedly having sex with an underage prostitute.
"The countdown for Berlusconi has begun," argues Paolo Franchi, a political analyst for Il Corriere della Sera, Italy's major newspaper. "Only 20 days ago I wouldn't have said so, but it seems now clear that this government is in a severe crisis," adds Mr. Franchi.
In late May, Berlusconi's right-wing coalition suffered a major blow in a round of local elections, when progressive candidates were elected mayors in all the large cities involved. In addition to Naples and Turin, the defeat was particularly harsh in historically conservative Milan, the prime minister's hometown, where Berlusconi had symbolically run himself for the city council.
---