Afghanistan looms large at SCO security group meeting
The Shanghai Cooperation Organization's (SCO) meeting in Kazakhstan focused on how Central Asia could be affected by the possible spread of the Arab Spring – as well as failure to stabilize Afghanistan.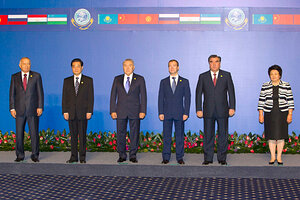 Shamil Zhumatov/Reuters
It's the only major international organization that has neither the US nor any US ally among its members, and its influence is growing rapidly in trouble-plagued Central Asia.
The six-member Shanghai Cooperation Organization (SCO), with Russia and China at its core, marked its 10th anniversary Wednesday with a lavish summit in Kazakhstan's capital, Astana, with leaders from nearby Iran, Pakistan, India, Afghanistan, and Mongolia attending as observers. Member states are Russia, China, Kazakhstan, Kyrgyzstan, Tajikistan, and Uzbekistan.
---