In Greece bailout, trouble brews for Germany's Merkel
Germany's Chancellor Angela Merkel faces growing anger at home over German help in buoying the Greek economy with a second bailout package.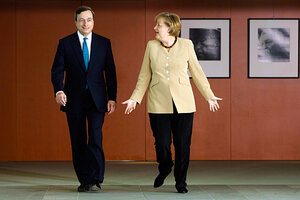 Markus Schreiber/AP
As Greece's financial woes make a raucous return, so, too, does the political pain for Germany's Chancellor Angela Merkel.
Ms. Merkel, whose country is shouldering a large part of last year's bailout package of 110 billion euros ($155 billion), is fearing public anger over plans for a second bailout package for Greece, a large part of which would be paid by the German taxpayer.
This time around, Merkel is insisting on involving private creditors in a Greek rescue. Other European governments and the European Central Bank want private involvement, too, but to a lesser degree.
A meeting tomorrow between Merkel and French President Nicolas Sarkozy is expected to address this stumbling block, possibly clearing the way for another bailout package of up to 120 billion euros ($170 billion). But Germany may prove to be more demanding this time around to ensure Greece does not falter again.
Already, Greek Prime Minister Georges Papandreou is facing protests over his radical austerity plan as he tries to lead the country out of a financial crisis that threatens to end in sovereign bankruptcy. In the end, conditions for further financial help would probably mean Greece would have to implement severe belt-tightening.
"The German government sticks to certain principles of financial regulatory policy," says Ferdinand Fichtner, chief economist at the Berlin-based German Institute for Economic Research.
---