Sarkozy, Merkel reach deal on Greece bailout cash
Germany and France reached an agreement that should see a desperately needed Greece bailout move forward.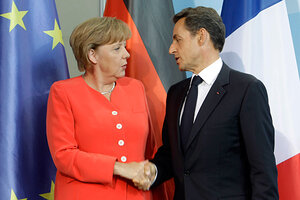 Ferdinand Ostrop/AP
Germany backed off of its demand that a Greek bailout involve tougher terms for private investors, an outcome that French president Nicolas Sarkozy today called a "breakthrough" and that cheered European markets.
A crucial meeting in Berlin today between German Chancellor Angela Merkel and Mr. Sarkozy smoothed over a dispute that has been holding up a bailout for Greece. Germany was insisting that private creditors of Greece exchange some of their short term Greek debt for longer, and therefore riskier, maturities. With Germany backing off that demand, the last obstacle to a desperately needed July payment from the European Central Bank to Greece has been removed.
"There is no time to lose," Sarkozy said after the meeting.
Greece is reeling from riots against austerity measures implemented as a price of the European Union bailout Greece needs to pay its debts. Without the July payment, a government default was likely – an event that would spike borrowing costs across Europe and potentially push other tottering economies like Portugal, Spain, and Belgium over the edge.
---
Follow Stories Like This
Get the Monitor stories you care about delivered to your inbox.