Russian plane crash highlights concern about Soviet-era jets
A Russian plane crash killed 44 of 52 aboard a Tu-134 today. While the age of the plane was questioned, some experts also point to need for better training and maintenance at smaller carriers.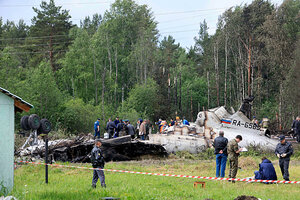 Timur Khanov/Komsomolskaya Pravda/AP
A fatal plane crash in western Russia has once again focused attention on the country's fleet of Soviet-built Tupolev jets, which do not meet international standards but are still flown by many regional airlines.
Russian aviation officials blamed pilot error for the accident, which killed 44 people – including eight foreigners.
The Tu-134 and its big sister, the Tu-154, were the main workhorses of Soviet aviation, which used to transport about 120 million passengers annually; twice Russia's current traffic. The country's main carrier, Aeroflot, retired all its Tupolev planes in 2009, but about 230 of each type remain in use with smaller airlines serving far-flung Russian communities and airlines of former Soviet republics.
Though notoriously cramped and uncomfortable, the planes until recently enjoyed safety records comparable to many similar Western-built aircraft. According to SOAR, a private company that teaches clients to overcome the fear of flying, both the Tu-134 and the Tu-154 have suffered about one crash per million hours of flying, or roughly the same rate as the Douglas DC-9 and Airbus 310.
But a series of accidents with Tupolevs in recent years has raised questions about whether the planes are getting too old to continue service in Russia, where foul weather is the default condition, airports are run down, and equipment is often substandard.
Russian official promotes Tu-134 replacement at Paris Air Show
In today's incident, a 30-year-old Tupolev Tu-134 flown by the RusAir regional airline with 52 people aboard reportedly clipped a tree and then crashed onto a highway while attempting to land in poor weather at Petrozavodsk airport in Karelia, a Russian republic that borders Finland.
---