What's at stake in Greek confidence vote
If Prime Minister George Papandreou survives tonight's confidence vote, he will push for the austerity measures needed to secure further financial aid from EU and IMF to avoid a default.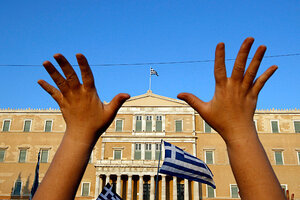 Yiorgos Karahalis/Reuters
It's crunch time in Greek politics: This evening, parliamentarians in Athens will cast their ballot in a confidence vote for the Greek cabinet, reshuffled by Prime Minister George Papandreou last Friday.
Investors are anxiously awaiting the vote, which could be a close one. PASOK, the prime minister's socialist party, holds only 155 of the 300 seats in parliament. Should the vote go in favor of Mr. Papandreou, he will ask lawmakers next week to back yet another round of austerity measures – worth 28 billion euros ($40 billion).
The spending cuts are a precondition imposed by the European Union and the International Monetary Fund (IMF) before they give additional financial aid to Greece, which owes 340 billion euros ($485 billion), or 150 percent of its annual GDP to its creditors.
If Parliament votes against Papandreou's cabinet, new elections will be held and any measures to rescue Greece could be further delayed, thus increasing the chance of a default.
Opposition to austerity measures
The Greek government is facing increasing opposition to the austerity measures, in Parliament and on the street.
Thousands of protesters have been turning out for weeks now, and tonight's vote will be accompanied by another demonstration outside the Parliament building in Syntagma Square.
Meanwhile, inspectors from the European Central Bank and the IMF have arrived in Athens. Their task, officially termed as a "technical mission," is to make sure that the Greek government does not waver in its resolve to see the spending cuts through.
---