Belarus cracks down on growing protests
Belarus security services detained at least 450 protesters in the wake of rallies across the country against the strong-armed measures of President Alexander Lukashenko.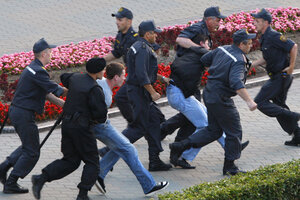 Sergei Grits/AP
Belarussian President Alexander Lukashenko is making good on his promise to "strike hard" against any Belarussian citizens heeding social-network appeals to protest against growing economic hardships.
By Thursday, more than 450 people who took part in flash-mob rallies in more than 30 towns around Belarus had been rounded up by the KGB security services, and accused of using Twitter, Facebook, and the Russian-language Vkontakte to facilitate illegal gatherings, according to the independent Belapan news agency. According to the agency, many face up to 15 days in prison for "hooliganism."
The largest such meeting saw thousands of mostly young protesters assemble, for the third Wednesday in a row, in the capital city of Minsk's central Oktyabr Square, for a wordless, hand-clapping display of "displeasure" over Mr. Lukashenko's strong-armed measures to fill a gaping budget deficit that have slashed living standards and introduced Soviet-style shortages in the space of a few months.
Organizers had called on protesters to remain silent, display no banners or slogans, and behave peacefully in order to evade Belarus's draconian demonstrations law, which bans almost any explicitly political meeting that has not been sanctioned by authorities.
---