Europe expands sanctions on Syria amid fresh protests
The EU sanctioned four more companies and seven new individuals, including three members of Iran's Revolutionary Guard, and condemned Syria's 'shocking' use of violence.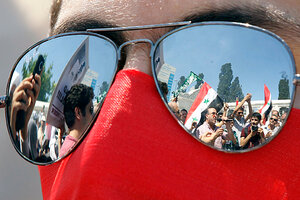 Murad Sezer/Reuters
The European Union expanded sanctions against the Syrian government today, even as reports emerged that regime forces opened fire on fresh protests that erupted after Friday prayers.
EU leaders meeting at a summit in Brussels announced travel bans and the freezing of assets for seven new individuals, bringing the total number of people targeted to 30.
But Europe's ability to squeeze Syria through sanctions is limited, says Daniel Korski, senior policy fellow at the European Council on Foreign Affairs in London.
"Most of Syria's main trade partners are outside the EU – countries like Turkey, Russia, China, Korea, and Norway. That has made Syria more immune to sanctions," says Mr. Korski, who notes that Europe's indecision about whether to give Assad a chance to redeem himself has also weakened its leverage. "So soft sanctions haven't worked and strong sanctions are outside the EU's arsenal."
---
Follow Stories Like This
Get the Monitor stories you care about delivered to your inbox.