In Russia, a blogger takes on powerful Putin
Alexei Navalny's charge that Prime Minister Putin is abusing his power is gaining traction, showing the growing clout of Russia's blogosphere.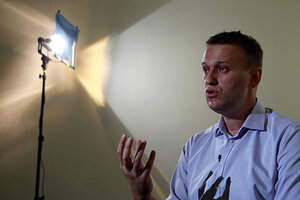 Sergei Karpukhin/Reuters
A Russian blogger created a huge stir in Moscow by accusing Prime Minister Vladimir Putin of abusing his office this week, demonstrating the growing influence of the blogosphere in this "managed democracy."
Alexei Navalny charges that in building a new "popular front" to support his bid for national leadership, Mr. Putin is ignoring most of the tough regulations for creating a nongovernmental organization that he authored during his years in the Kremlin.
In the past, a single citizen complaining about the (possibly illegal) hypocrisies of the powerful would be unlikely to get very far. But Mr. Navalny is helping change that dynamic.
A tireless anticorruption campaigner, Navalny rocketed into public view last year by posting online documents that seemed to implicate the state-owned Transneft pipeline company in fraud amounting to billions of dollars.
"Navalny's blog has become very popular, and a lot of people are watching closely," says Alexei Lukatsky, a Moscow-based Internet consultant. "So far, the authorities try not to notice him."
---