Wen spreads China's billions in Europe but can't buy goodwill
On tour through Europe, which ended today in Germany, Chinese Premier Wen Jiabao inked deals worth billions, but also faced questions on human rights abuses.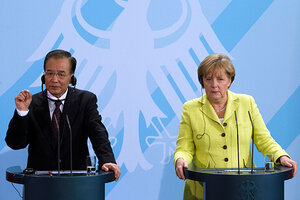 Markus Schreiber/AP
Chinese Premier Wen Jiabao today said China may give Europe "a helping hand" with its current debt crisis – but warned in uncharacteristic tones for a second successive day against European officials and media that "meddle" in China's affairs.
Mr. Wen, seen as one of China's more liberal and sympathetic senior officials, ended a goodwill jaunt through Europe that is partly intended to put a better face on China, experts say, and meant to keep Sino-European business flowing during a US election season that could result in significant China-bashing.
His trip included a stop in Hungary, head of Europe's rotating presidency, where he offered $1.4 billion in loans. A visit to England showcased Wen's interest in Shakespeare, and brought $2.3 billion in trade deals. In Germany, a nation that designs many of the machine tools China has used to become the "factory of the world," trade deals totaled more than $14 billion.
Yet Wen caused a shock in London on Monday by sharply admonishing the Tory government of Prime Minister David Cameron for raising dissident cases, saying that 5,000 years of history "has taught the Chinese never to talk to others in a lecturing way." In Berlin, he repeated his government's desire not to be upbraided by moral or legal representations.
---
Follow Stories Like This
Get the Monitor stories you care about delivered to your inbox.