Why Greece will likely pass austerity measures, despite protests
Greece is reluctant to pass wildly unpopular austerity measures that have brought thousands of angry protesters to the streets, but it has little choice.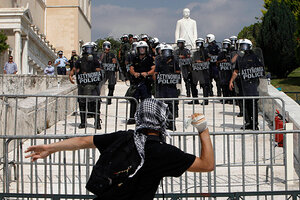 John Kolesidis/Reuters
Europe is nervous. The July 15 deadline for Greece to pay off a chunk of its debt is looming, and between strikes, protests in the streets, and political infighting, there's plenty of reason for concern that it will miss the boat, bringing down other struggling economies with it.
For Greece to receive the $17 billion in loans from the European Union and International Monetary Fund (IMF) that it needs to pay that July debt – a portion of the $142 billion bailout that it has been receiving in increments since last year – it has to pass a slew of unpopular austerity measures, many of which will be voted on during Wednesday's parliamentary session.
Watching the scores of protesters in the streets of Athens demanding an end to cuts in government jobs and pensions, some Greek politicians are saying it's not possible to cut any further.
But Greece has no choice but to pass austerity measures, regardless of how fervent the opposition, two economists say.
"Clearly there is growing unhappiness among the Greek people about this new round of sacrifices. It is difficult for the government to enact a further round [of austerity measures] … against this backdrop of people protesting in the streets," says Domenico Lombardi, a senior fellow with the Brookings Institution. But "they have no other choice … Greece would really fall out of control."
---
Follow Stories Like This
Get the Monitor stories you care about delivered to your inbox.