Tour de France kicks off: Who to watch
Alberto Contador, coming off two consecutive wins, is the clear favorite. But he's stuck in a legal battle over allegations of doping that could nullify any titles he wins this year.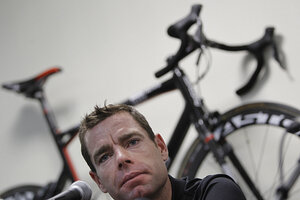 Laurent Cipriani/AP
Before the 98th Tour de France kicked off this morning on the Atlantic coast, a doping scandal already loomed over the peloton.
The favorite, Spain's Alberto Contador, already tested positive for a banned drug last year. But with the legal wrangling still in process, he's being allowed to compete and could well win his fourth Tour victory before the Court of Arbitration for Sport (CAS) decides his case.
If Contador wins the race but loses the case, that would make this the second Tour in five years to have its victor defrocked by a doping scandal.
In addition, the rightful winner of this year's Tour would be deprived of the opportunity to stand in yellow atop the podium in Paris on July 24 – an irreplaceable moment of personal satisfaction and public glory worth millions of dollars in endorsement opportunities.
"We wanted a quick resolution, before the Tour, but it looks like it was too much to ask," said Tour director Christian Prudhomme earlier this week.
The contenders
Pedaling hard against Contador for victory is a crop of rising stars, most prominently Andy Schleck. The lean Luxembourger has finished second to Contador two years running and is one of the only riders who can stick with the Spaniard on the Tour's grueling mountain stages.
---