Denmark imposes new border checks to keep out immigrants, 'criminals'
The right-wing Danish People's Party insisted that Denmark, part of the Schengen travel zone, impose spot border checks to keep out 'criminals from Eastern Europe.'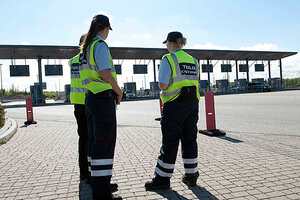 Keld Navntoft/Scanpix/Reuters
Sixteen years after the Schengen agreement ended border controls for European citizens throughout most of the Continent, Denmark today appeared to take a major step away from the deal by imposing spot checks on people traveling from Germany or Sweden.
The move was demanded by the right-wing populist Danish People's Party (DPP) and, according to DPP leader Pia Kjærsgaard, designed to keep out "criminals from Eastern Europe and illegal economic migrants."
In the past few years, populist movements have gained ground politically by campaigning against immigration, claiming that newcomers have not only become an economic drain but are also altering traditional European values. In Denmark, Prime Minister Lars Rasmussen, who is heading a minority government, depends on the support of the DPP, which saw large gains in 2007 parliamentary elections.
Today's decision met strong reactions on this side of the border. German Foreign Minister Guido Westerwelle warned that the checks would be a bad omen for freedom in Europe.
The Europe minister in the German state of Hesse called on Germans to boycott Denmark as a holiday destination.
---