Will Dominique Strauss-Kahn's political career get a fresh start?
US sexual abuse charges against French politician Dominique Strauss-Kahn may be dropped soon, but a French novelist now says she will charge him with attempted rape.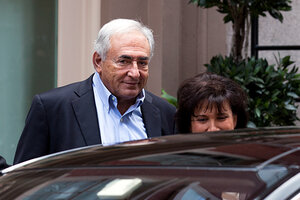 John Minchillo/AP
Dominique Strauss-Kahn have may have won surprising new battles over his suitability as a presidential candidate in France's 2012 election – but is he losing the overall war?
New York media today report that sexual assault charges against Mr. Strauss-Kahn, the former International Monetary Fund (IMF) chief and a French Socialist Party heavyweight, may be dropped in a matter of days.
But in a dramatic shift in the month-long saga, French novelist Tristane Banon – who has steadily accused Strauss-Kahn of violent sexual overtures – now says she will charge him with attempted rape in 2002.
The Banon charges hit at a time when a purported new French feminist pushback against unwanted male advances is competing in the French mind with a strong and proud claim that Strauss-Kahn has been exonerated and was victimized by an overeager and puzzling US judicial process.
"Banon's claim will not prevent [Strauss-Kahn] from claiming victory if he gets a dismissal in the [New York sexual assault case]," says Paris commentator Karim Emile Bitar.
---