Brooksie's booboo! Has Murdoch tabloid gone too far?
Rupert Murdoch's News of the World is being investigated for using private investigators to eavesdrop on the phones of a missing 13-year old and families grieving over the 7/7 terrorist attack in London.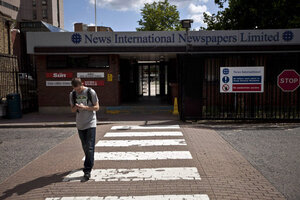 Matt Dunham/AP
The News of the World, a British tabloid juggernaut owned by Rupert Murdoch, has long made a habit of skirting ethical lines by using private investigators to hack into the cellphone messages of celebrities, politicians, and royals to write about their private thoughts and sex lives.
While occasionally yielding arrests or fines, the tabloid has used a public interest defense to justify its methods. The high-profile victims were largely seen as fair game, and its knack for breaking news stories has helped make the News of the World the largest circulation paper in the English-speaking world.
But this time the News of the World has been found interfering with the investigation of a 13-year-old girl's murder, and possibly eavesdropping on the private conversations of people who lost loved ones in the 7/7 2005 terrorist attack on the London transit system. News International, the UK-subsidiary of Murdoch's Newscorp and the parent company of The News, also provided evidence to investigators today that it has paid British cops for information. News International is now run by Rebekah Brooks, the editor of The News at the time the hacking took place.
The paper is now widely deemed to have gone too far and advertisers have been abandoning the Murdoch tabloid in droves this week. What has drawn most opprobrium are allegations that a News of the World private investigator not only listened to the voicemail messages left on the phone of missing 13-year-old Milly Dowler in 2002, but deleted existing messages when the mail box grew full. That action, the Dowler family's solicitor has claimed, could have jeopardized the police investigation and gave her family false hope that she might be still alive (her body was found later).
---