In France, each ripple in faltering Strauss-Kahn case dissected, debated
Though the case against DSK in New York seems to be cracking, the conversation in France about entrenched machismo attitudes isn't, in part due to new accusations against the former IMF chief.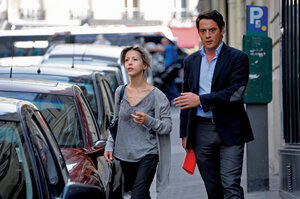 Philippe Wojazer/Reuters
The media frenzy over Dominique Strauss-Kahn, until recently the leading contender in next year's French presidential polls, is so thick that both revulsion and fascination about the case have become a major part of the story line in France. Mr. Strauss-Kahn has become a Page 1 mainstay.
And just as the shock of "L'affaire DSK" was beginning to settle down, suggestions that the Sofitel hotel maid who accused the former International Monetary Fund (IMF) chief of sexual assault is not credible has shifted the narrative into "Strauss-Kahn's wild ride."
Now, as Strauss-Kahn says he will plead not guilty to all charges (if the charges aren't dropped), theories in Paris abound on how a presidential hopeful may have been framed for rape. Add to this new allegations that DSK attempted to rape a young French novelist.
But amid all of the flux in the Strauss-Kahn case, the electric headlines, the French anger at perceived American haste to charge the former IMF director, there remains quietly in the background, heard in cafes and at dinner tables, a pushback against a culture of machismo among French male elites. Call it France's "Anita Hill" moment, however faintly. Even though the charges against DSK remain in question, one matter is agreed: male harassment is a more open subject.
---