Why Italy may need a bailout, too
With high debt and falling stocks, Italy appears to be the next European economy on the brink. Investors and European officials are now sounding alarm bells.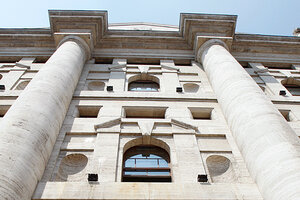 Antonio Calanni/AP
With little advance warning and declaring it was not a "crisis" meeting, senior European officials today formally discussed Italy's sovereign debt woes for the first time.
They met in the wake of sharp stock falls last Friday and during spikes today in Italy's 10-year bond yields that brought alarm that a debt crisis and default talk could spread to large eurozone nations.
Today's meeting took place around an inconclusive European Union discussion on a second Greek bailout following last year's $110 billion rescue package. The terms of a second bailout are contested – something itself seen as spawning market fears about the struggling "peripheral" states, including Italy, Ireland, Portugal, and Spain.
Analysts say it is not the Greek crisis per se, but the lack of an agreed EU rescue and concomitant political resolve that troubles markets and is bringing a focus on Italy's position.
The cost of insuring Italian bonds jumped from 5.2 percent to 5.7 percent today, drawing comparison to a similar jump last November in Ireland, a substantially smaller market.
Now, last Friday is being called "black Friday" in Rome after markets plummeted, and after the German newspaper Die Welt published quotes from unnamed officials close to the European Central Bank (ECB) that the current EU bailout fund was not adequate to handle an Italian collapse.
---