News of the World scandal gives Miliband a chance to shine
While the phone hacking scandal that led News of the World to shut its doors embroils Prime Minister David Cameron, Labour leader Ed Miliband has seized the political - and moral - high ground.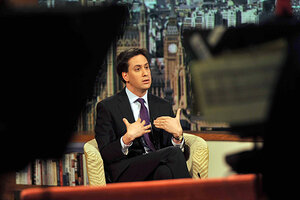 Jeff Overs/BBC/Reuters
The News of the World scandal continues to sweep through the British political landscape and Rupert Murdoch's media empire like a Biblical flood.
The effect of the phone hacking by the Murdoch-owned News Corp. of some 3,870 individuals – many of them ordinary people suffering tragedy – is being compared to pivotal events like Watergate and the Arab Spring.
However, one British politician who appears to be rising above the flood waters is Labour Party leader Ed Miliband. While the youthful Mr. Miliband is sometimes called geeky or wonky, he is widely seen as finding his voice in the current crisis.
Early on Miliband called for investigations as well as the sacking of Rebekah Brooks, former editor of News of the World (NotW) and now CEO of its parent company, News International. He says that Prime Minister David Cameron's version of events regarding the employment of a former deputy NotW editor at 10 Downing St. "doesn't add up." He's even brought a national laugh, saying that Britain's Press Complaints Committee – which failed to deal with News Corp. in 2009 – was "established to be a watchdog. But it has been exposed as a toothless poodle…. It should be put out of its misery."
---
Follow Stories Like This
Get the Monitor stories you care about delivered to your inbox.