Why America should care about Europe's economy
In the globally connected economy, financial pain in either Europe or the US has worldwide ripples.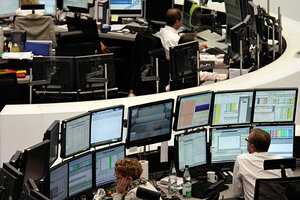 Amanda Andersen/Remote/Reuters
As European economic woes worsen, should Americans worry about the eurozone? After all, the US has plenty of its own economic troubles to contend with.
But in this globally connected world, there's plenty of concern to go around. American jobs and economic growth are directly tied to how and when Europe addresses its fiscal and debt problems, as well as to Chinese inflation and exports. In turn, China depends on the US and European ability to return to robust growth. And the entire global economy rides on Congress approving higher US debt levels.
In short, economic fumbles in Europe will be felt in America, and vice versa. After a couple of years of mostly uncoordinated global recovery strategies and trillions of dollars in bailouts and stimulus funds that have had mixed results, weakened world economies have less room to maneuver and are thus more exposed to what happens elsewhere.
"Even if it looks far away, there is no way for the US to be immune to significant issues in Europe," says Gilles Moec, a London-based Deutsche Bank senior economist. "We're talking about a really large amount of national debts which are at risk which could bend global wealth."
One may ask how the probable default of a tiny economy like the Greek one can wreak more havoc in world markets than Argentina's 2002 default. The difference is that markets are on edge, increasingly irrational, and reacting more to speculative scenarios than to real numbers. That's the nature of the beast.
---