Rupert Murdoch: His empire under attack, a media potentate stumbles
The tawdry depths of the phone hacking scandal surrounding Rupert Murdoch's media empire have shocked the UK public and exposed the heights of his political influence.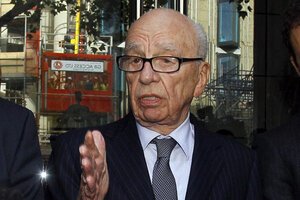 Kirsty Wigglesworth/AP
The New York Times was once described in worldly terms as "the kingdom and the power." But in recent decades the title applies more to the global empire of Rupert Murdoch, whose massive media octopus of $60 billion in assets spans Australia, China, Latin America, India, the United States, and Europe. In 2010, News Corp. earned $33 billion in revenue from Star TV in Hong Kong, Dow Jones in the US, and Sky TV and papers in London, to name a few. Mr. Murdoch's US-based Fox News network is described in a 2010 News Corp. report as "unstoppable."
Murdoch's clout is such that Tony Blair's first trip as British leader was to Australia for an audience with the mogul. If being feared is a requirement for British power, says Oxford writer Timothy Garton Ash, Murdoch has been more powerful than the previous three prime ministers.
---