A day off at the Tour de France: Not exactly restful
Tour de France cyclists still head out for a ride and juggle press conferences and massages. Back in the day, riders had 14 days off and some even swam in the Mediterranean.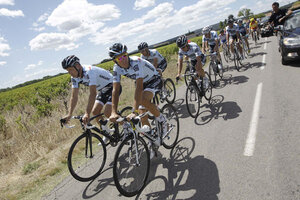 Laurent Cipriani/AP
There's no racing today at the Tour de France: the cyclists – from race leader Thomas Voeckler to last-placed Andrey Amador – have a much-needed day off.
It is the second of two rest days during this three-week Tour, which ends next Sunday in Paris.
This strategically placed pause is a chance for riders and team staff to recharge before the grueling Alps stages later this week.
It will be far from a spa day, however.
On rest days, cyclists keep a busy schedule. It's just a lighter version of their race routine: riding bikes, talking to press, and trying to stay off their feet. Sometimes, though, routines are interrupted.
Spaniard Juan Antonio Flecha, a rider for Team Sky, couldn't have guessed he'd spend part of the first rest day in a hospital.
But after being clipped by a French television car during last Sunday's Stage 9, he was on the doctor's table being examined for broken bones, not in the saddle, during his team's rest-day ride.
"You'd like to keep the routine, of course, but this morning I had other things to do besides ride my bike," he told the Monitor last Monday.
It could have been worse for Flecha. The first fatality in Tour history happened on a rest day in 1910 – France's Adolphe Hélière was stung and killed by a jellyfish while swimming in the Mediterranean.
A typical day
Jellyfish and crashes aside, a typical rest day starts with a training ride. Each team will pedal for about two hours; that's a walk in the park compared to a typical five-hour Tour stage.
---