Murdoch's moment: What's at stake for News Corp. in phone-hacking hearings(VIDEO)
Media barons Rupert and James Murdoch, as well as Rebekah Brooks, testify in Britain's House of Commons today in the wake of outrage over revelations of widespread phone-hacking and influence-peddling at News Corp.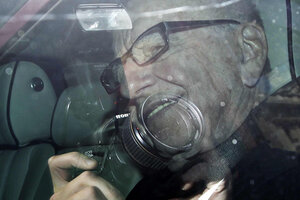 Matt Dunham/AP
The top three executives of the Murdoch empire that owns 40 percent of the British press and the biggest TV market here will today be publicly questioned about a hacking scandal that this week alone forced the resignations of Britain's top two police officials and has brought the prime minister home early from Africa over questions of his leadership.
In a scandal whose momentum has been breathtaking, it may be another new peak of drama.
For Mr. Murdoch, the stakes could be extremely high. A committee room of assorted politicians asking frank questions is not seen as the Australian-born mogul's best setting. Should he appear too sharp, combative, dismissive, or insincere, he could permanently lose the British public, analysts say.
Murdoch, owner of News Corporation, his son James Murdoch, who had oversight of News of the World (NotW), and Rebekah Brooks, the recently arrested NotW editor and former CEO of Murdoch's British newspaper arm, will go before a House of Commons committee to answer what they know about the scope of phone hacking at NotW – and when they knew it.
Together they are being called "the Wapping Three" after the area of London where Murdoch's press empire is centered.
Questions will also be put to Sir Paul Stephenson, who resigned Sunday as head of the Metropolitan Police Dept., and John Yates, his deputy, who stepped down Monday.
---