Can Europe find a safe place for nuclear waste?
The European Union yesterday imposed a four-year deadline on member countries to come up with plans for facilities to permanently store their spent nuclear fuel.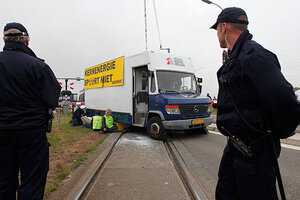 Bas Beentjes/Greenpeace/AP
The European Union has given member states four years to come up with plans to permanently store their nuclear waste, a problem that continues to vex all nuclear energy-producing nations.
Energy ministers in Brussels adopted the plan yesterday. While it was greeted with enthusiasm by some officials, some European lawmakers said the directive was overly vague and lacked specific targets.
"After years of inaction, the EU for the very first time commits itself to a final disposal of nuclear waste," said EU energy commissioner Günther Oettinger. "The EU becomes the most advanced region for the safe management of radioactive waste and spent fuel."
One hundred and forty-three reactors in the EU produce 7,000 cubic meters of highly radioactive waste every year. No country in the union, in fact no country anywhere in the world, has facilities to store this waste permanently and safely – more than 50 years after the first nuclear power plants were switched on.
"Governments have been passing the problem on for decades now – to the next administration, the next generation," said Mr. Oettinger.
Critics don't fail to notice the irony: Before going to Brussels, Oettinger was prime minister in the German state of Baden-Württemberg, home to four nuclear power plants. He did not stand out for attempts to find a solution to the waste problem.
The directive obliges member states to present timelines for the construction of disposal facilities, and to identify sites where legally binding safety standards can be implemented.
Currently, it takes 40 years to develop and build a so-called deep geological repository. EU countries can team up to create common facilities; the export of waste to non-EU states is allowed only if the destination country operates a suitable repository. Exports to African, Pacific, and Caribbean countries and to Antarctica are ruled out.
Environmental campaigners criticize the directive for not being clear enough.
---