Tour de France celebrates 100 years in the Alps with highest-ever finish
The French Alps have always been the holy grail of cycling. But this year the quest is even tougher: Tour de France cyclists will set a new record for the highest finish.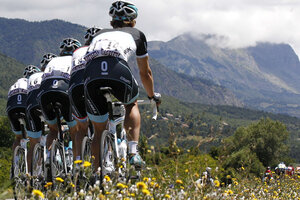 Pascal Rossignol/Reuters
Every sport has its holy grails – for baseball it's Fenway Park and Wrigley Field; tennis has Roland Garros and Wimbledon. For professional cyclists, it's the French Alps.
Over the past 100 years, the craggy mountain range has hosted epic Tour de France duels, dashed dreams, and forged champions.
To mark a century of riding through the Alps, Tour de France organizers have set this year's deciding stages among some of its most iconic and grueling peaks.
The peloton begins the first of three consecutive high mountain stages today, with Thursday and Friday – the final two climbing days in this year's Tour – expected to be the most decisive.
Thursday's Stage 18 will start in the Italian Alps and conclude back in France atop the Col du Galibier, which at 8,400 feet will be the highest finish in Tour history.
---