Norway attacks: Details emerge about Utoya camp shooting
Police confirmed the connection between today's deadly camp shooting and Oslo bombing. Norwegian Prime Minister said 'no one will bomb us to silence.'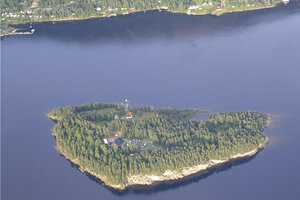 Mapaid, Lasse Tur/AP
Norwegian Police confirmed the massive bombing in downtown Oslo this afternoon is linked to a shooting at a political youth camp west of the capital, though authorities declined to speculate on who was behind the attacks or what their motives might have been.
Police arrested the gunman who opened fire about 5 p.m. on campers, killing at least 10. "We can confirm that a person is arrested, and we believe that he has had dealings with both events," said Sveinung Sponheim, Norway's national police chief.
Knut Storberget, the country's justice minister, said police were still investigating the man's background but confirmed that he was a Norwegian national.
Norwegian Radio cited a witness who said the gunman spoke Norwegian and described him as tall and blonde. Mr. Storberget said it was unclear if the man was acting alone.
Norwegian Prime Minister Jens Stoltenberg remained defiant in the face of the attacks and said any guilty parties would be brought to justice.
"We will find the guilty and hold them responsible," he said at the press conference. "No one will bomb us to silence. No one will shoot us to silence. No one will ever scare us away from being Norway."
Both events are likely to prompt soul-searching in Norway, and many citizens are likely to suspect Islamic militants, says Iver Neumann, a research fellow at the Norwegian Institute of International Affairs (NUPI).
---