The metamorphosis of 'Murdochgate'
What started out as a morality tale about the indiscretions of one of Rupert Murdoch's most tawdry tabloids is turning into a complex paper chase.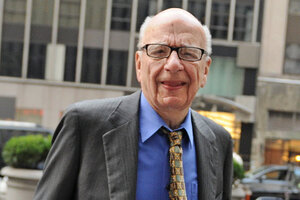 Louis Lanzano/AP
The phone hacking scandal outraged Britain as a simple tale of exploitation by a News Corporation-owned tabloid. Now it appears to be moving into a more complex phase that promises to test just how much reform the UK system will abide.
With two new inquiries planned, with a growing partisan political tone to the drama, with charges and denials over testimony recently given by Rupert Murdoch's News Corp. lieutenants, and amid many lawyers and spin doctors on all sides, analysts say the original morality tale is becoming a complicated paper chase.
Plus, the country is now going on holiday for a month.
"From the public perspective the [scandal] story is starting to atomize ... this week brought a curious reaction, people got tired of it," says Martin Moore, director of Media Standards Trust in London. "People recognize the institutional corruption involved … but the story has become very complex with many threads, and I think the public is losing the thread."
The scandal exploded like a volcano when it was revealed in early July that an operative employed by News of the World (NotW), the now defunct tabloid operated by New Corp.'s British newspaper arm, broke into the voice mail of Milly Dowler, a 13-year-old murder victim. The news set off a wave of moral revulsion against tabloid culture.
---