Norway attacks: Police question gunman in 'very difficult' investigation
Police in Norway say that Anders Behring Breivik, arrested in connection with a bombing and shooting rampage that killed 92 people, was offering some cooperation.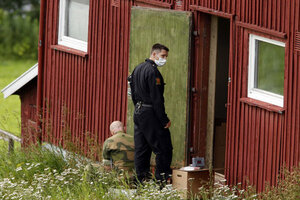 Cathal McNaughton/Reuters
Norwegian police said the man arrested in connection with Friday's deadly bombing in Oslo and shooting on a small island is cooperating to some extent with authorities. But they added that their investigation into the attacks, which left 92 dead and a swath of downtown Oslo shattered, is slow going.
"He is willing to cooperate with police in some certain limits," deputy chief of Oslo police Sveinung Sponheim said at a news conference today. "On some main points, it's very difficult," he added, noting that the suspect was unwilling to make a statement as to whether he acted alone.
Police arrested Norwegian national Anders Behring Breivik Friday evening on the island of Utoya, where he killed 85 people after opening fire on a summer youth camp organized by the ruling Norwegian Labor party.
Mr. Breivik drove a car from Oslo west to Utoya, where he then boarded a boat to the small island, full of hundreds of campers. He was wearing a police sweater bearing an emblem on the shoulder, misleading campers into thinking he was an officer.
Sponheim said police were still investigating as to how Breivik obtained the sweater and stressed that he had no connection with police or the Norwegian armed forces.
When confronted by officers, Sponheim said Breivik laid down his weapons – a pistol and an automatic weapon – and surrendered without a fight.
"The police shouted to him and told him to lay down the weapons," Sponheim said. "We don't know [why he surrendered]. That's part of the investigation."
---